Employees who use their strengths are more engaged, perform better, are less likely to leave — and boost your bottom line.
The best way for employers to maximize employees' strengths is through their managers.
People who use their strengths every day are six times more likely to be engaged on the job. That's just one big finding from decades of GALLUP research into human behaviours and strengths. That research has established a compelling connection between strengths and employee engagement in the workplace — a connection that has the power to accelerate performance when companies work on enhancing both simultaneously.
The power of strengths
The best way for people to grow and develop is to identify how they most naturally think, feel, and behave — their talents — then build on those talents to create strengths, or the ability to consistently provide near-perfect performance. GALLUP works with businesses worldwide to help their employees discover their innate talents and apply them productively to achieve performance outcomes.
In our extensive research GALLUP has found that building employees' strengths are a far more effective approach to improving performance than trying to improve weaknesses. When employees know and use their strengths, they are more engaged, perform better, and are less likely to leave their company.
To learn more about how employees use their strengths at work, GALLUP developed the Strengths Orientation Index for use with an employee engagement initiative. The index helps companies determine how successful they are at creating a workplace that cultivates employees' strengths. The index is made up of four items:
Every week, I set goals and expectations based on my strengths.

I can name the strengths of five people I work with.

In the last three months, my supervisor and I have had a meaningful discussion about my strengths.

My organization is committed to building the strengths of each associate.
Gallup tested these items using samples of the U.S. working population and discovered that 3% of employees could strongly agree with all four of the Strengths Orientation Index items. This low level of agreement shows that the vast majority of businesses in the U.S. don't focus on helping employees use their strengths — and this is a costly oversight. When employees feel that their company cares and encourages them to make the most of their strengths, they are more likely to respond with increased discretionary effort, a stronger work ethic, and more enthusiasm and commitment.
The best way for employers to maximize employees' strengths is through their managers. But what happens when managers choose to ignore their employees or focus on their weaknesses instead?
Engagement increases when managers focus on employees' strengths
To test the effects of a manager's approach to engagement and strengths, GALLUP conducted a study with a random sample of 1,003 U.S. employees to determine how much they agreed with two statements: "My supervisor focuses on my strengths or positive characteristics" and "My supervisor focuses on my weaknesses or negative characteristics." Gallup put employees who did not agree with either statement into an "ignored" category.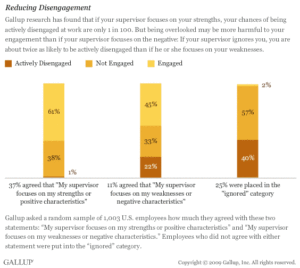 One-quarter (25%) of American workers fell into the "ignored" category, and 40% of these employees were actively disengaged. Managers who focused on their employees' weaknesses cut active disengagement roughly in half, to 22%, proving that even negative attention is better than no attention at all.
By contrast, for the 37% who agreed that their supervisor focused on their strengths, active disengagement fell dramatically to 1%. What's more, nearly two-thirds (61%) of these employees were engaged, twice the average of U.S. workers who are engaged nationwide (30%). This suggests that if every company in America trained its managers to focus on employees' strengths, the U.S. could easily double the number of engaged employees in the workplace.
A supervisor's approach to strengths has such a profound effect on engagement because managers play a crucial role in maximizing employees' opportunities to use their strengths every day. Managers can empower employees to discover and develop their strengths and position them in roles where they can do what they do best every day.
When managers succeed in these endeavours, their teams become more engaged. And GALLUP has found that employees who feel engaged at work and who can use their strengths in their jobs are more productive and profitable and have higher quality work. Based on findings like these, GALLUP concluded that a strengths-based management approach is the best way to improve the employee-manager relationship.